I was an avid watcher of Saturday morning cartoons. As a kid, I threw a party every Saturday and all of my stuffed animals attended. Being an only child, I had did a fine job keeping myself occupied. I would place them neatly on the couch, which always ended up an unruly pile, and we hunkered down for the morning.
I pretended to feed my guests dry cereal while I ate it like popcorn. Sometimes, I would drink what remained in a can of flat diet Pepsi from the previous evening.
The agenda evolved over the years, but included shows like Super Friends, Scooby Doo, Looney Toons, Smurfs and, toward the end of the era, Gummi Bears. All I ever wanted was a potion bottle full of Gummi Berry juice.
The cartoons lasted for years after the stuff animal parties, but a few of the party-goers still reside with me today, such as the mongoose puppet, a Smurf puppet, Dopey (the dwarf), and the remains of a cloth face from a Raggedy Andy I received when I was born. Add that to the list of things my dogs tore to shreds. I kept the face for some reason, the most in-tact part from the atrocity.
In addition to dry cereal and flat pop, I consumed advertising like air. I still do. I love it. To this day, I can recite more product jingles, PSA's, and School House Rock anthems than I can count. Thanks to YouTube I can summon, within seconds, my favorite ones and geek out in a completely nostalgic way. Monchichi, anyone?
Over time, advertisements included Velcro shoes convincing me, naturally, that I desperately needed Velcro shoes! Brands such as Zips and KangaROOS, which had a zipper pocket along the side, became so important to have. I wanted them and, eventually, my dad bought me a pair.
Mind you, my parents weren't as swayed by what was popular. They were practical. The brand I received was Brooks. Still, I was excited. They were Velcro and I proudly wore them to school the next day.
The bell rang for recess and I was on the playground showing off my new shoes. It didn't take long for a couple kids to take all of the wind out of my sail.
First, I was informed that my shoes weren't as cool as Zips. I fell down a peg but, in all honesty, I agreed.
Then, they pointed out that they didn't have a pocket. Ok fine, they didn't have a zipper pouch which, quite frankly, was a useless gimmick anyway. I wasn't even carrying around a house key at the time.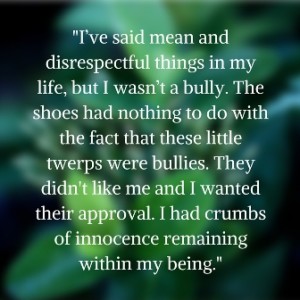 Before I could even muster an attempt and pointing out the coolest feature, the teasing about the Velcro started.
"Travis, don't you know how to tie shoes? You need Velcro because you can't tie shoes!"
It was official; I was at the bottom of the peg board that I was never able to climb anyway.
In that exact moment, all I knew was that my shoes weren't on TV and they said I couldn't tie shoes. The damage was done.
I was defeated and angry. Why couldn't I have the shoes on TV? I felt stupid and uncool. My dad screwed up! How could he do this to me?
While waiting for my dad to pick me up after school, I noticed an ankle-deep mixture of mud and muddy water. It was the kind of marshy, squishy, stinky stuff that breeds bad ideas and billions of mosquito larvae in Alaska. I jumped in.
When my dad arrived, it wasn't clear what color or kind of shoes were on my feet. Make fun of me now, assholes!
I hopped in the truck. "What's going on with your shoes?" he asked.
"I hate them! You bought the wrong kind!" I said.
I was so mad at my dad for what those kids said to me. I could see his disappointment in me and my reaction to the entire situation. I was being a mean twerp, just as those kids were to me, instead of being grateful for my dad working hard to provide for me. Thankfully, he didn't cease, but I can say he never provided me with another pair of Velcro shoes.