Big Bowl of Blog
Devilish Smirk will always evolve. I promise. All blog topics are on the table, or close enough to grab.
You never know what I'll bring back to the table. I pace a lot and I can return with any topic. I'm like a dog carrying a dead rat into the house and freaking everyone out.
Some topics will come out of nowhere, and others you may not understand, but it doesn't matter. I'm not that complex, and life is much simpler.
You've Been Warned 
It's hard to arrive at the place where you understand and believe what you think to be true. Nothing gets easier. In fact, problems elevate your threshold to deal with more bullshit problems, which are always possible.
Anything can happen. Friendships morph, but don't always end. It's happened to me, and others. You never know exactly what you're being prepared for so you might as well prepare as best you can.
What have you got to lose?
That's a trick question. You have everything to lose, no matter what you do.
Simplify your life after you complicate the fuck out of it. Everyone does it to themselves, in countless capacities.
Baby steps are small and to get anywhere, takes time.
It's like sea kayaking in Alaska. You paddle for hours and the scenery doesn't change because the mountains are giant.
As a writer, this has been one of my larger struggles, but not the largest. Cherries bury a lot when the bowl is big enough.
Thank you for checking out Devilish Smirk. I hope you enjoy your time here. Never be afraid to show your genuine self. That's the quickest way to take control of your time.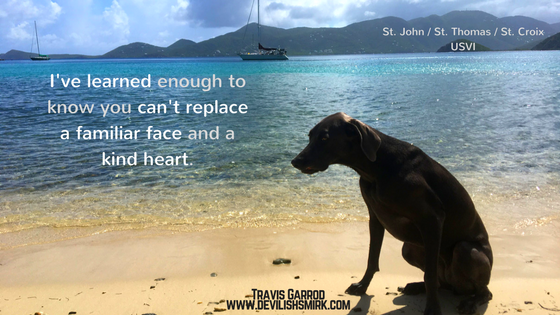 Spend time on this site. Subscribe for inbox surprises. Engage. Share.
Smile, then smirk.
Communication is how it begins.

"When I started this, I read a lot about having a niche. I'm creating it. It's been a huge challenge, but I'm having a lot of fun and I feel great doing it. I wish I'd dedicated time to it sooner." Travis Garrod, October 22, 2015.

Copyright secured by Digiprove © 2017