I love dogs. I'm a dog person through and through.  I love them so much that mine did this to me and they still make my life exponentially better.
Along with dogs come certain guarantees. A few that come to mind are unconditional love, memories for life, occasional bad behavior, inevitable heartbreak, and ATTENTION. They want it and they get it. From you, from everybody. While you may not be comfortable walking up and sniffing someone's crotch before you've made eye contact, guess what? Dogs have no qualms about it. You learn how to deal with those interactions, particularly in elevators, where they are a little more awkward. Elevators are like traps and less voluntary.
When walking a dog, expect a lot of attention. And I mean a lot. You're bound to meet at least one person every time you walk a dog.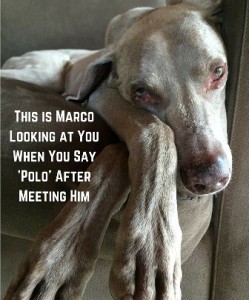 When you do, they are bound to ask your dogs name. And, if you tell them your dog's name is Marco, there's a more than high probability that they will, almost instantly, say "POLO!"
I'll give you an example.
Random stranger, "Is he friendly?"
Me, "Yes, he sure is."
Random stranger, "Cool, can I pet him? What's his name?
Me, "Absolutely, this is Marco."
Random stranger, "POLO!"
The first time I might have laughed. As I it became expected and predictable, it became less and less amusing. Eventually, I would only be able to lift my head enough to smirk and a nod as people added, "You probably hear that all the time." Continued nod.
It's similar to when I tell people I am from Alaska. Naturally, they asked if I lived in an igloo or say something about daylight or darkness. After 2008, Palin became the new igloo. No, I don't live in an igloo and no, I don't know Sarah.
After over 13 years with Marco, I expect people to say 'Polo' after I introduce him. Even Marco understands the joke. Some of them even know they are about to say something completely unoriginal, yet they still say it. We're all guilty.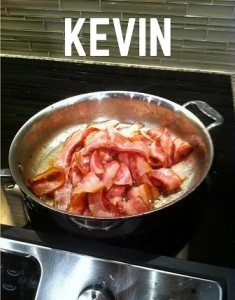 If you want to be original, I'll tell you what I've never heard. Nobody has ever referred to the original inspiration of his name. No random stranger has ever blurted out, "ISLAND!"
As in, Marco Island, Florida. Not Marco Polo. Next time you encounter someone with a dog named Marco, throw them off.
If you already have a dog named Marco (like me) and meet someone with a dog named Marco, (I have) hold out until the other brings it up. Yes, they have heard it before. A rhetorical question is a lame conversation starter.
Regardless, dogs are awesome and this isn't a situation unique to Marco. There are probably millions of predictable interactions occurring every hour of every day.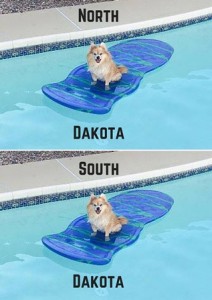 I'm guilty of it too. My friends have a dog named Dakota. Dakota has gotten brave since moving to the desert and discovered he likes surfing on foam pool pads.
Dakota's family just moved into a new house that has a pool. So, I gave him one. Apparently he loves it! His parents sent me a pic!
I sent them this.